Highpoints of NFNV Nigeria's maiden Pan African women EXPO
NFNV Nigeria
The Nigeria chapter of the New Faces New Voices (NFNV) Women in Finance Network hosted its first-ever Pan-African Women EXPO last October, 2018 in Abuja, Nigeria which presented investment, networking and trade promotion opportunities and viable exchange of products and services for hundreds of participants from across Africa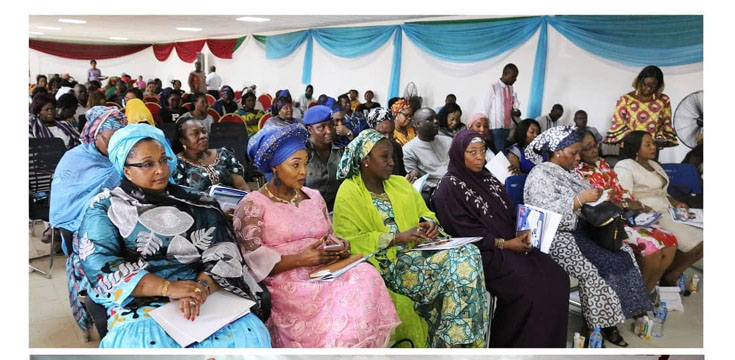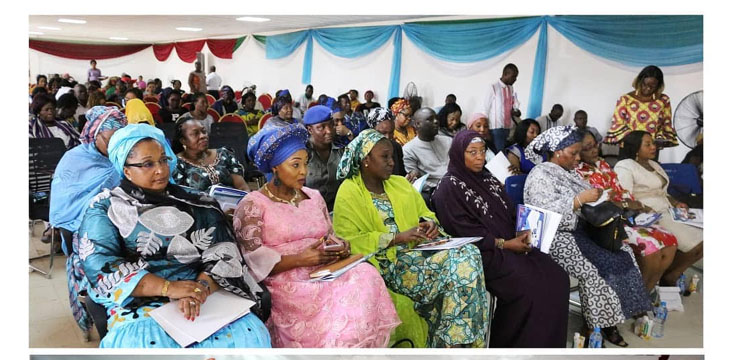 A cross-section of dignitaries at the opening ceremony of NFNV Nigeria's maiden Pan African Women Expo held last October in Abuja, Nigeria
It was a bright sunny Thursday morning at the Abuja Chamber of Commerce and Industry's Trade and Convention Center where women cross-border traders from across Africa have converged for the official opening ceremony of the maiden NFNV Nigeria Pan African Women Expo, the first such trade exhibition exclusively for African women in Nigeria.
The expo was organized by NFNV Nigeria in collaboration with COMECO, a media and events company, as well as FABA- FALABI, a Niamey-based firm also featured two side events: a free capacity building training for the women traders by NFNV Nigeria as well as the African Women CEOs Roundtable, organized in collaboration with Tanzania Women CEOs Roundtable (TWRC).
The expo themed: "Promoting Cross Border Trade as Panacea for Economic Growth," was part of activities kick-starting the implementation of the second phase of NFNV Nigeria's Raising Voices for Women Cross Border Traders in West Africa Project being implemented in collaboration with the United Parcel Service (UPS), the US-headquartered global logistics company.
While welcoming exhibitors at the opening ceremony, the country director of NFNV Nigeria, Aishatu Debola Aminu, said the expo which was a gathering of entrepreneurs, cross-border traders, artisans and professional business women from across Africa to explore opportunities and challenges in cross-border trade in Africa was aimed at amplifying the voices of women cross-border traders whom, she said, formed a significant portion of informal traders on the continent.
"It is clear that Africa is not harnessing its potential for regional trade, despite the fact that the benefits are enormous; creation of larger markets, economic diversification, cost reduction, enhancing productivity and reducing poverty. Yet, trade barriers remain significant and fall mostly on women who are the key players," Aminu said.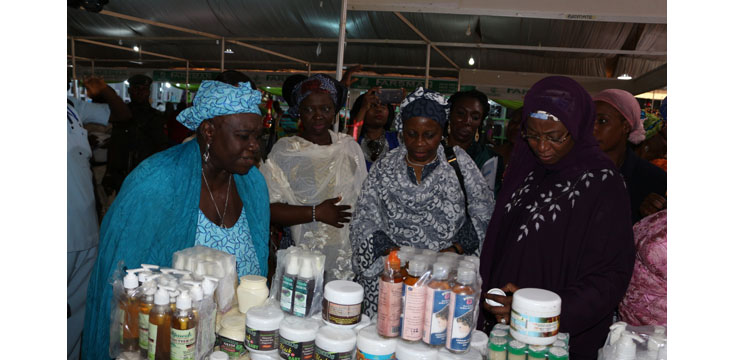 NFNV Nigeria Grand Patron Her Excellency Amina Namadi Sambo (fourth from left) inspecting exhibition stands at the trade expo
In her keynote speech, special guest of honour at the event, Aisha Abubakar, Nigeria's minister of state for industry, trade and investment said gender was a fundamental dimension in Cross Border Trade (CBT) on the African continent adding that a up to 30 percentage of these businesses were women-led.
"In West and Central Africa alone, women represent nearly 60 percent [of cross-border traders]. Not surprisingly, it has been suggested that informal cross-border trade has done more for economic integration than formal trade has. Women's cross-border trade has the potential to contribute significantly to household earnings and resources, and to empower women by giving them financial independence and control of their own resources," said Abubakar.
She said CBT could be improved in the West African sub-region through focused empowerment of women business owners including ensuring direct support and improved business climate like promoting access to finance; the creation of more cross-border cooperatives to ease the process of capacity building in the areas of developing business plans and negotiating with financial institutions; ensuring cooperatives meet the required basic product standards for national and regional markets.
"There is no doubt that Cross Border Trade (CBT) is important to economic development, as it increases the value of products which in turn contributes significantly to a country's overall growth and development. For example, in West-Africa, where a trade liberalization scheme has been in existence since 2003, Cross Border Trade accounts for 12 percent of the region's commercial transactions," said Abubakar.
"Numerous studies highlight that border economies, benefit greatly from cross-border trade as it enhances food security, provides employment, and allows millions of people to have access to goods and services unavailable in their own countries. Therefore, small-scale cross-border trade directly impacts poor households faster than large-scale trade."
She decried the fact that despite the trade liberalization scheme in West Africa, the region still faced many obstacles that prevent it from fully fulfilling the role it is expected to play as a catalyst for growth and development in the region adding that even though the member countries had adopted strategies and signed treaties in response to numerous obstacles, there were still challenges preventing the full implementation and potential from being realized.
"These include a lack of adequate border infrastructure, limited access to finance, lack of market information, slow implementation of existing policies on cross-border trade, limited knowledge about taxes, duties and exemptions, informal fines and confiscation of goods; inconsistent and non- harmonized national laws and policies and their regional instruments and limited knowledge, education and business management skills," she said.
In her goodwill message to the expo, founder of the NFNV Women in Finance Network under the Graca Machel Trust (GMT), Mrs Graca Machel, said now more than ever, there was need "to actively embrace the economic force of the continent's women entrepreneurs, artisans and business leaders. Women have been participating in the economy despite significant and sometimes overwhelming challenges; this has to change.
"If we as continent are to succeed in bringing about financial and economic sustainability of Africa – not just for now – but for future generations, then the key players need to work collectively to bring about a transformed financial sector; one that is inclusive and accommodating to the realistic needs of the continent's women regardless of the level at which they participate in the economy," said Machel.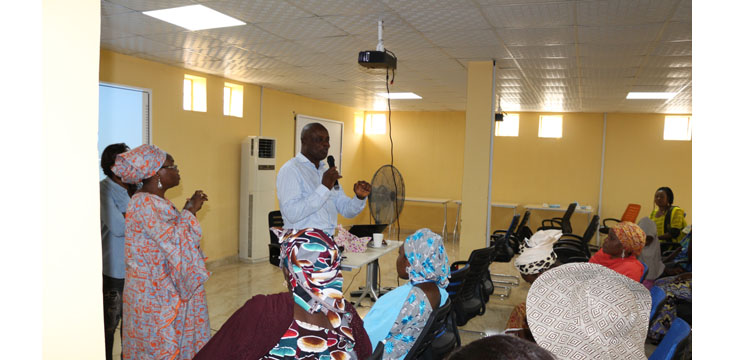 NFNV Nigeria Lead Trainer/Consultant John Odubele facilitating a session during the capacity building training for women traders at the expo
In her opening remarks earlier on, grand patron of NFNV Nigeria, Her Excellency Amina Sambo, said: "Expos such as this, is surely another way of creating avenue for interactions and connections that will ultimately empower African Women, open new vistas and boost their financial muscles. Let me urge participants to take advantage of this and change the narratives of underdevelopment, poverty, lack of capacity, lack of exposure and other factors that have held African women back.
"I urge others to also borrow a leaf from people like her and make efforts no matter how little to touch the lives of people. My NGO I – Care Women and Youth Initiative, which has been in existence for eleven years is willing to partner with any organization that works within our thematic areas of education (especially girl-child), health and poverty eradication," she said.
In his goodwill message, Prince Adetokunbo Kayode, President of the Abuja Chamber of Commerce and Industry (ACCI), the hosting partners for the expo, said recent studies had shown that Sub-Saharan regional economic communities had demonstrated the impact of informal trade at both the macro and micro levels.
"Due to the constraints of access to formal jobs for women, many are turning to informal trade as an opportunity to meet the needs of their families. Informal trade is thus not simply an alternative to the limited number of formal jobs. But it is actually an employment and income-generating activity that helps to combat the concentration of poverty among women in Africa and a means of supporting families and to improve human development," said Kayode.
Similarly, in his goodwill message, the executive director and CEO of the Nigeria Export Promotion Council (NEPC), Segun Awolowo, said his Council had since 2016 been working with the International Trade Centre to empower 200,000 women-owned businesses under the SheTrades Initiative and as part of the broader UN's goal of connecting 1 million women-owned businesses to the market by the year 2020.